!—RADIUMONE POST BEACON TAG—>
Ex Racehorse - 9 yrs 16.0 hh Dark Bay - Northumberland
good to box, clip, catch and shoe, he will hack out alone or in company, no problem in heavy traffic, has been placed in SJ and Dressage, very good manners. Sad sale but lack of time due to college and work commitments. inc all tack and rugs.
Category:
Ex Racehorses
Price:
£ 1,500 ONO
Horse's name:
Rocca
Age:
9 yrs
Colour:
Dark Bay
Gender:
Gelding
Height:
16 hands
Breed:
Thoroughbred
Registration details
we're sorry, this ad is no longer available.


100% Natural, low lathering, no-rinse, fresh zesty body wash, perfect for the summer months. Using high grade essential & natural herbal oils.
visit now >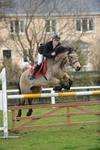 Welcome to Diamond's Equine Centre, located in the heart of the home of the Connemara Pony. We have a large well stocked facility and wide choice of excellent quality ponies on hand, for sale all year round.
visit now >

The Caldene Lana Sleeveless Top is a a sleeveless ladies polo shirt constructed in a stretch pique fabric, with a ribbed collar and sleeve cuffs. Just £30.99!
visit now >
Edit in sitelab