Find The Perfect Horse Name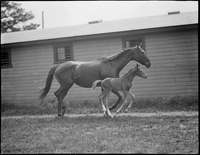 Image Courtesy of Boston Public Library, Leslie Jones Collection
Naming Your New Horse Or Foal?
Feast Your Eyes On Some Of These Terrific Names.
During the spring it is prime time to name your horses new foal or maybe you made a new purchase on Horsemart and are now the proud owner of a young bay and fancy a name change?
Well you're in luck, because here at Horsemart we've created a list of the best horse names featured on our site - through buying and selling.
What's more we've got the top 10 names for boys, and the top 10 names for girls, so you can check out what's popular and what's not.
Names are always changing so Horsemart sees anything from the exotic Xeta Maria to the traditional Jack, we love everything from the outrageously imaginative to the sweet and simple.
It is also worth remembering that here at Horsemart, as well as having thousands of horses for sale, we offer a wealth of horse information and advice to help in all aspects of caring for your horse. To view all of our fantastic advice, click here now.
We would love to know what your horse is called! Tell us in the comments section at the bottom of the page. You might just inspire other horse owners with your original ideas.
You are sure to find your horse name you'll adore on our list!
Top 10 most popular horse names for girls
Rosie
Mona
Bella
Molly
Poppy
Lilly
Millie
Lady
Lucy
Bonnie
There is something which we have noticed specifically with the girls names, you do seem to love the 'e' sounding names, they're nice and girly - but not too much!
We have definitely noticed that you love to name your horses human names, whereas previously, human names and animal names have been kept rather separate - but when our pets are as much part of the family as our aunts and uncles, why not give them a name that makes them feel part of the family!
What about the boys then?
Top 10 most popular horse names for boys
Jack
Charlie
Billy
Harry
Bailey
Alfie
George
Murphy
Bobby
Jimmy
We love the boys names too, again the names are classic and always in fashion. What we love about the top 10 boys names is that even through the years we haven't seen a huge change in the list of male horse names. Some names come and go but they all have a classic and gentle aspect to them, we don't see it often but we like it!
Of course, they aren't all so common. Not all of us are into naming our horses after humans, so here are some of the best unisex names, that would only be fit for a horse!
Top 10 most imaginative horse names
Whiskey
Tido
Dragonfly
Tori
Snow Feet
Icefall
Mystery
Cavier
Swiftsilver
Cinders
Night Sparkle
But if any of the above don't take your fancy then do not worry, below you will find a full list of boys names, girls names, or names for both - we are sure that one of these will give you a little inspiration when naming your new four-legged friend! Here are the overall top horse names we have assorted them via our top 10 breeds on site...
Here are our Top 10 breeds on site and their most popular name
Cob
Romeo
Hetty
Jake
Chester
Badger
Minstral
Sidney
Puzzle
KitKat
Buzz

Arab Horse
Lyla
Tilly
Snazzy
Prince
Smartie
J S Hypnotica
Kalibis
Hyait
Tekka
Edora

Irish Sport Horse
Molly
Ginny
Max
Milly
Molly
Circus
Silver Jasper
Leon
Rosie
Sienna

Connemara
Apollo
Rosie
Dexter
Connie
Pepper
Bobby
Rolo
Linvanton Aengus
Fizz
Roshanna

Appaloosa
Harvey
Caricks
Zona
Spot
Poppy
Jenny
Hampton
Sprint
Geronimo
Jimmy

Paint Horse
Valerie
Bella
Montie
Bindy
Niall
Mildred
Rosie
Amelio
Jackson
Thompson

Dutch Warmblood
Nexus
Ben
Hollie
Benny
Pretty
Xeta
Mona
Maximus
Jonny
Turner

Thoroughbred
Happy Jack
Morgan Galaxy
Phoebe
Ellie
Eclipse
Lily
Rosie
Polly
Jim
Bobby

Welsh Section A
Vincenzo
Daisy
Oxney Jack
Mary
Chestre
Minty
Phillip
Poppy
Angie
Dustin

Shetland Pony
Millie
Jack
Tommy
Lunar
Twinkle Feet
Bobby
Sam
Chester
Buzz
Freddy

Why not take a look at all of the wonderful horses for sale on Horsemart today? You could have a new addition to the family soon and then you'll be able to try out a few of these cracking new names.
Articles