!—RADIUMONE POST BEACON TAG—>
Broodmares horse - 7 yrs 16.2 hh Bay - West Glamorgan
Cross shire mare. Easy to catch, handle and box. Has bred 3 great foals and she has been a great mother. Ready to be put to a stallion or broken to ride. Very hardy type ? lives out all year round. Photos taken as a 2yr old. Only for sale due to retirement from farming.
Category:
Broodmares
Price:
£ 850 ONO
Horse's name:
Dancer
Passport No:
8260073005050687
Age:
7 yrs
Colour:
Bay
Gender:
Mare
Height:
16.2 hands
Breed:
Shire
Registration details
we're sorry, this ad is no longer available.
Latest ads in the same category:


The Amigo Three-In-One Vamoose is the ultimate in summer defense, acting as a turnout and fly sheet in one. Just £104.99!
visit now >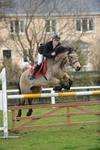 Welcome to Diamond's Equine Centre and Connemara Performance Ponies, located in the heart of the home of the Connemara Pony.
visit now >

The Caldene Lana Sleeveless Top is a a sleeveless ladies polo shirt constructed in a stretch pique fabric, with a ribbed collar and sleeve cuffs. Just £30.99!
visit now >
Edit in sitelab