Top 10 Hottest Horse Men!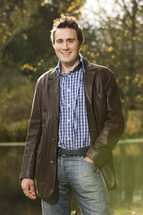 As chosen by the Horsemart team.....
The female side of the Horsemart team recently took some time out to pick out their top ten hottest riders.........Here's what they came up with! Let us know what you think about their taste in men in our comments box at the bottom of the page!
Number 10: Guy Williams

Even though he's 10th on our list Guy Williams is ranked 5th show jumper in Britain. He has been riding since he was three and discovered his passion for riding on his first pony called Peter. Guy was approached when he was 15 and after winning a lot on the National Circuit was offered a job in America for Margie Goldstein (then a top American rider). It carried on from there and in 2003 he won the Grand Prix at HOYS which kick-started his international career. A year later he returned to Britain, where he then got his own owners and sponsors.

Number 9: William Funnell

William has been maturing young horses for 20 years and is a three time winner of the Hickstead Derby in 2006, 2008 and then again in 2009. He has represented Great Britain 35 times on the Nation Cup Teams, 8 of them were winners. He is currently ranked 12th in Great Britain as he has never represented England in the Olympics and is married to Pippa Funnell who is an international event rider.
Number 8: William Fox Pitt

Fox-Pitt began riding at just age 4 and started his eventing career at 15. He was fortunate enough to have been born into an equestrian family with both parents having ridden around Badminton and Burghley and his siblings having been very successful as well, this opened many opportunities to him as a child. His career highlight is an Olympic team silver medal at the Athens Olympic Games in 2004. He first won the British Open Championship in 1995 at age 26. Other notable successes include Burghley, Badminton, Blenheim and Bramham Horse Trials.
Number 7: Damian Hallam
Damian is a top dressage rider and has won over 15 national titles and received a silver medal for Great Britain in 2005 at the World Young Horse Championships with Tony and Sarah Pidgley's 'Spirit Freedom'. He currently has many horses ranging from novice to Grand Prix. Damian continues to produce consistently good horses, showing a real aptitude for bringing horses on from green unproven youngsters and transforming them into dressage stars.
Number 6: Tim Gredley

Tim has been surrounded by horses from a young age and this shows in his proven top class international horses and thought of as one of the most talented set of horses in the UK. Tim is uniquely positioned to compete with and beat the worlds best, both now, and for years to come. In 2004 Tim and his horse Omeli won Team Gold Medal at the Junior European Championships. Another large achievement in 2006 was being picked for no less than three Nations Cup Teams. All in all Tim is a very accomplished young rider.
Number 5: Oliver Townend

As many other jockeys Oliver was bought up with horses as both his parents worked in the horse industry. He started his international career at just age 22 when he represented Britain at the European Championships in 2005. Oliver spent three years as a stable jockey to British Team Trainer, Kenneth Clawson before he set up on his own. This set him up well, as he now has an impressive string of horses, so there are very few competition dates where Oliver will not make an appearance. 2007 was a good year for Oliver as he clocked up an impressive 1,886 British Eventing points.
Number 4: Francis Whittington
Francis Whittington had an extremely successful start into the world of horses when at 16 years old when he won Individual Gold and Team Silver at the Pony European Championships in Hasselt, Belgium. However his talent was noticed prior to this as he rose through the pony club winning many competitions leading him to the success he is now. Francis has his sights set on competing in the 2012 Olympics.
Number 3: Daniel Timson

Daniel's dressage career started at a young age in the Young Riders competing in three big competitions in three years, 1992, European Young Rider Championships in Ksiaz, 1994, Young Rider Championships in Babenhausen and 1995, European Young Rider Championships in Helsinki. After he finished in the Young Riders he spent over 3 years in Germany working for Klaus Balkenhol previous gold medal Olympic winner at the Olympic Training Centre in Warendorf which helped him gain experience and further his career. Since he has been back in the UK, Daniel has successfully competed as a Senior Rider on a national and international level.
Number 2: Carl Hester

Carl's first experience in riding was a small donkey on the island of Sark, until he was 19 and moved to the mainland in search of a riding career. He found the start of this in the form of a couple called Christopher and Jannie Taylor. However his career took the most dramatic turn when he was spotted and given the chance of a lifetime by Dr Bechtolsheimer. This led to his first big competition when in 1990 he went to the World Championships shortly followed by the European Championships in 1991 and in 1992 the Barcelona Olympics on Georgioni. He was the youngest British rider ever to compete in an Olympic Games.



Number 1: Andrew Gould
He is our number one hottest rider however he is pretty good on his horse as well! As a Young Rider he successfully competed at national and international levels on his horse Koffee Break, he had trained Koffee himself since he was five years old. Andrew then continued to make it on five consecutive GB European Teams and even won a bronze medal in 2000. Andrew and Koffee Break competed at International Grand Prix level, and they had more blinding successes together when they won the prestigious Spillers Scholarship Rider of the Year in 1997 and 1999 and the EQUEST Rider Championship in 1998. Since Koffee Break, Andrew has continued to have success after success in 11 regional championships, 3 national championship classes, won and been placed in many classes up to PSG level both nationally and internationally and has had great success in the Young Horse Classes. As if that wasn't enough Andrew is a dressage trainer to many leading riders and celebrities for example international modelling star Katie Price and Eventing gold medal winners Emily Llewellyn and Sienna Myson-Davies. All in all we feel Andrew is hot-to-trot!
Latest News