The most unusual horse markings, you won't believe the last photo...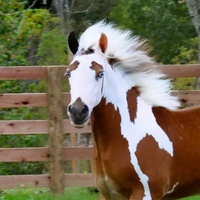 We all love our horses. We would do anything for our horses, and our horses are easy to spot. To an outsider, horses just look like normal horses but some you can identify by their unusual markings. Most markings on a horse are the white areas that standout on their dark coat.
The markings are present from the moment they are born and will not change throughout their life; when shedding their coat it might differ slightly but the main shape and district look will stay the same. There are lots of different types of markings that a horse can have. On the face they might have a 'Blaze, which is a big white stripe that is located down the middle of the horses face or the star which is a white unique mark that appears above or between the eyes. On their legs they might have a Pastern which is a white mark that appears at the top of the hoof, but then stops below the fetlock or a Sock which is a white mark that will usually go longer in length than the fetlock but won't go as high as the knee or Hock. Sometimes this mark is called a boot.
We have found some of the most beautiful marking on horses around the planet. Take a look at these beauties....
The black and white beauty
The Reverse Oreo
The orginal Oreo
The Chocolate & Vanilla Shake
The Skelton Horse
The Mohawk Mare
....We love this one!
The Giraffe
The White Wizard
...a Zebra??
Love all these amazing markings? Check out some more here
Latest News