Owner banned for life after unimaginable suffering to two-month old foal - CONTAINS GRAPHIC IMAGES
News
•
Tuesday 05 August 2014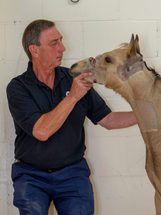 Owner who caused unimaginable suffering to two-month old foal is banned from keeping horses after pleading guilty
Today, inside St Albans Magistrates Court, an owner of a mare and her foal received a three-year ban from owning or keeping equines.

Ms Pascale originally pleaded not guilty in January to animal cruelty charges at Watford Magistrates Court but today changed her plea to guilty.

Her charges came under section four of the Animal Welfare Act 2006 – failing to check, adjust or remove a head collar which lead to severe infected wounds and a deformed bone. Ms Pascale was also ordered to undertake 100 hours of unpaid community service work - to be served within 12 months - and made to pay £500 costs and a £60 victim surcharge.

In August 2013, Britain's largest horse rescue and rehoming charity, World Horse Welfare, was called to assist the RSPCA with the catching of a 16-year-old bay mare named Ivy and a two-month-old dun coloured foal named Star, in Hatfield, Herts. The foal's head collar had embedded so far into his nose and poll area that his skin and hair had grown over the leather head collar and the nasal bone had been damaged. As Star grew, the head collar had cut further and further into his face.



District Judge Inyundo said this of the case in court today: "Ms Musk had significant [horse] experience which caused difficulty in the defence submission. [In this case], she ought to have been able to, and should have, acted more quickly."

Nick White, World Horse Welfare's field officer for the region, first attended the scene with the RSPCA last August as a matter of urgency alongside a veterinary surgeon from the Royal Veterinary College (RVC) in Potters Bar.

Once caught, the horses were examined. Due to the extent of Star's injuries from the embedded head collar, and the fact that he was still suckling, both mare and foal were taken possession of and transported to the RVC for urgent surgery to remove Star's head collar and treat his injuries.



The owner was cautioned and agreed to sign both horses over to the RSPCA who subsequently signed the pair over to World Horse Welfare for further rehabilitation.

Star is improving every day and his wounds have healed, though he will be left with lasting scarring.

Claire Phillips, farm manager at one of the charity's four rescue and rehoming centres across the UK, Glenda Spooner Farm in Somerset, explains how much Star has changed since receiving around-the-clock care from the charity: "Star was brought to us following the surgical removal of his head collar. He had been in a lot of pain and had never been handled so was fearful of humans when he first came in. In a matter of days though he became more confident and allowed us to clean his wounds with minimal fuss. Sadly, he will be left with permanent scarring and damage to his facial bones, but this will not prevent him from leading a normal life in the future."

Nick White says: "When I first saw Star, he was attempting to suckle from his mother but I could hear that his breathing was laboured. I then saw that he had a leather head collar on that had become embedded into his nose, jaw and the flesh behind his ears. The facial part of his nose was very swollen and infected above and below the noseband, as was his jaw. There was thick dried and encrusted blood, as well as fresh blood and puss weeping from the wounds. I saw too that some of the metal parts of the head collar were also embedded into Star's flesh. It was obvious that this head collar had been left on for a long time without being removed or adjusted. Star had endured this unforgiving head collar eating into his flesh and bone, plagued and infected by flies, during the hottest part of the summer whilst, like all other foals of his age, he continued to grow."



RSPCA inspector Tina Ward says: "This was an experienced horse owner who knew that there was a problem but did nothing about it. The foal could have been prevented from suffering and trauma if the defendant had simply sought help or advice and loosened the collar.

"We are grateful to World Horse Welfare for caring for the foal and for their support and expertise in dealing with the incident."


Star should soon be ready for rehoming. World Horse Welfare will be looking to find Star a home with someone who has the experience and knowledge to continue his education and break him in when he is old enough. Claire says: "We really struggled to find homes for our youngsters last year and we desperately need them. So if you think you can rehome a youngster like Star, please get in touch."

You can rehome a horse here: www.worldhorsewelfare.org/rehoming<http://www.worldhorsewelfare.org/rehoming>

Latest News