New stallion chosen as the black horse for Lloyds TSB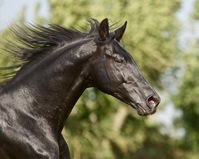 By Paul Lacey
A new stallion has been chosen as the (long) face of Lloyds TSB for their traditional black horse advertising campaigns.
Holme Grove Prokofiev, a 17-year-old graded Trakenhner Stallion was chosen after photographer George Brooks was commissioned by the bank to find trademark look horse in 2011.
Susan Attew, of Holme Park Stud, said: "We are thrilled that our stallion, Holme Grove Prokofiev, is the new face of Lloyds Bank.
"It was only yesterday (2nd April 2012) that the news finally came through from the photographer that his photos had been chosen and they had already used the first photograph on the
Lloyds Annual accounts online
!"
Holme Grove Prokofiev is by the Thoroughbred stallion Beg xx out of Trakenhner Mare Pillar III.
The original Lloyds TSB black horse was called Cancara but died in 2006 at the age of 31. He was the succeeded by three horses who share his role – Dante, Tarantino, Imperator and now, Holme Grove Prokofiev.
Photographs by Stephen Charlton

Latest News