How to get sponsorship for horse riders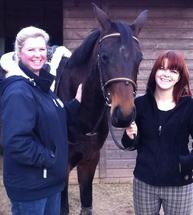 Horsemart reader and blogger Nicola Strong writes about how you can gain sponsorship to help you begin competing.
Competing at any level is an expensive game, but this year I have been completely overwhelmed by how expensive it is to compete at affiliated level. It's not just the value of the membership, or even the entry fee's in isolation, but everything else that goes along with it, the whole package. Since I began competing my costs have spiralled, owing to many contributing factors, from increased feed & supplements, to twice weekly lessons, and even having to move to more suitable livery. Like many, I often think that we are part of a rich person's sport...only there are plenty of us who really aren't rich! So how do we manage?
I was lucky enough to be selected as a sponsored rider by my trainer, Sharon Kilminster of Kilminster Equestrian Ltd. Not only did this mean that I was given some gorgeous gear to wear with her logo on, but it also means that for 2012 all of my training will be provided for free. We may only be in February, but already I am struggling to see how I would manage without that support.
Sponsorship can come in many different forms and levels, whether it is training, provision of products or support with entry fees, and can make all the difference to amateur and professional riders alike. From a riders' perspective, I certainly see sponsorship as a 2 way street and actually prefer the term 'partnership.' In exchange for the support of my sponsor, I see it as my responsibility to represent the brand in an appropriate manner, to help promote them to my contacts, and to help raise their profile wherever possible. From a business perspective, they will be looking to align their brand with someone who can represent their brand values, demonstrate their ability to champion the brand/product, and who is well positioned to influence their target audience - so for instance someone who is well known or respected in their discipline.
Since winning the sponsorship I have set up my own website, and have found it's an excellent way of providing visibility, and being able to drive traffic to both my own website and hers through the use of regular blogging. Don't underestimate the importance of this - it essentially provides you with a following, and gives you a platform to talk about your progress. Make sure people can find you, and link to your blog from your social networking sites as appropriate. I think there will always be an element of companies looking for a certain type of person, and if you fit that bill you're in luck, but there are things you can do such as increasing your visibility and online presence to make you and your horses an attractive commodity to potential sponsors. If you are looking for sponsorship yourself, I would highly recommend looking into this. After all, there are thousands of riders out there seeking sponsorship, so we need to do everything we can to ensure we stand out from the crowd.
Horsemart reader and blogger Nicola Strong has been riding for 23 years and is taking her first steps into the world of British Eventing and British Showjumping with her main horse Willo (Caherpuca Star) and is supported all the way by trainer and sponsor Sharon Kilminster. She has her own blog at www.headstrongequestrian.com.
Latest News