AND THEY'RE OFF - Kempton (naked) Ladies race-y, err, race -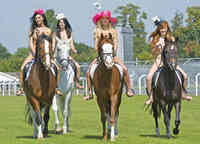 Kempton Park racecourse was the setting for a different kind of race today as five naked Lady Godivas raced bareback around the Surrey course to promote its upcoming Ladies Day.



The model riders made their way around the track as passers-by got a glimpse of the fine filly action set to be the 'mane' attraction at Kempton Park's first ever Ladies Day on Saturday 5th September.

Emma Glover (far left) rode Misty to victory beating fellow beauties, Chloe Tweedie, Alex Finch and Emily Taylor, to the finishing post.

Amy Starkey, managing director of Kempton Park racecourse, comments:

"We wanted to launch our first Ladies Day with an iconic image - one to remember - and what better way to capture the spirit of Ladies Day than by recruiting KemptonPark's very own modern-day Lady Godivas."

KemptonPark's Ladies Day marketing campaign launched earlier in the year which featured two of the racecourse's finest fillies groomed to perfection by international stylist Sascha Breuer.

Kempton Park's first Ladies Day will take place on Saturday 5th September. Gates open at 12.30pm and the event will include an afternoon of racing and live music.
Latest News