Friesian horses: Training tips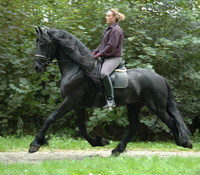 If you're considering taking on a Friesian horse then naturally you may have some doubts regarding how to train these horses. Well, as we've explored elsewhere, there's no need to worry, as for the most part, the Friesian horse will exhibit a calm, docile temperament and the breed has a strong reputation for trainability.
Friesian horses are suited to a number of equestrian disciplines, including dressage and driving. However, as with any breed of horse, a little training goes a long way – so why not read out tips for training Friesian horses in the guide below. Alternatively, you can find Friesian horses for sale on Horsemart by clicking the link provided.
For more tips and advice on training your horse, click here.
Tips for training Friesian horses
Friesian horses are relatively intelligent, but early training can sometimes be something of a challenge, as these horses can initially demonstrate a slow reaction time. This can sometimes be misconstrued amongst some riders unfamiliar with the breed as general laziness, but once you manage to overcome initial training frustrations, Friesian horses will be amongst the hardest working of any breed.
Remember, training a horse is a skill that takes time – sometimes lots of it. Therefore, you'll need to demonstrate plenty of patience and understanding during early training.
As with any learning curve, it's important to breed confidence, so when your horse has a successful training session, make plenty of fuss and offer up a tasty reward or two – it's always good to have something to build upon. Remember, when you're buying a Friesian for sale, you'll be buying a horse that will want nothing more than to please you.
Be consistent in your commands, even if you're struggling to spot a breakthrough. A Friesian horse may need a little time to become accustomed to your vocal instructions and hand movements. At all times during training, try and speak in a clear and concise voice, and repeat important terms such as 'Whoa', 'Trot' and 'Canter'.
Finally, it's important to bear in mind that although Friesian horses have excellent athletic potential, they can be susceptible to injury if they are trained inappropriately. Therefore, no matter how tempting it may seen, always try to avoid overexerting a Friesian horse – it's far better to take each training session one step at a time.
Articles