Why do Flies Like Horses and Ponies so Much?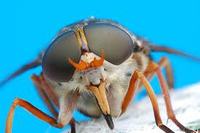 Horse Flies
Flies are the bane of all horses and ponies lives. All horses are bothered by flies getting into their eyes, biting their legs or crawling around on their bodies.
There is not a lot that you can do about flies but there are horse care steps you can take to make your horse more comfortable.
Flies love horses and ponies so much because they have evolved to make a living off of larger plant eating animals such as the horse. There are different types of flies which each have their speciality for bothering a particular part of the horse.
Face Fly – Feeds on the secretions from horses and ponies eyes.
Stable Fly – The stable fly draws blood from the horse's legs.
Horsefly – The horsefly sucks blood from the upper body of the horse.
Blackfly – The blackfly feed from blood inside the horse's ears.
Botfly - Some other kinds of fly such as the Botfly use the horse's digestive system to reproduce. These flies lay their eggs on the horse's legs and wait for them to be accidentally ingested. Once the eggs are inside the horse's mouth they hatch and burrow themselves into the horse's cheeks and gums. Next they will drop and attach themselves to the stomach lining where they will detach and enter a cocoon stage and emerge as botflies and the whole process begins again.
House Fly – The house fly lays its eggs in the horse's manure and then they hatch, feed and turn into irritants for your horse.
How to Protect Horses and Ponies from Flies
You can buy a food additive which you can place in your horse's grain to stop larvae developing into adults in the horse's manure.

You can buy fly control systems which are rigged up to stable ceilings to periodically spray the horse with insecticide to stop flies from settling, biting or laying eggs. This has a flaw however because insecticides also kill the insects which eat and kill the flies naturally.

The most common way of protecting horses and ponies is to buy protective horse clothing. You can buy horse hoods and rugs to stop flies being able to bite.
Articles