Show Jumping Dress Code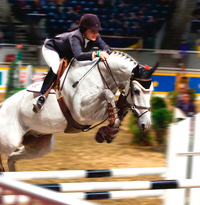 There is a certain dress code required for show jumping that is important to know before you plan to compete. The type of equestrian clothing required will vary depending on the level at which you are competing; amateur, unaffiliated horse jumping contests are usually quite relaxed but professional contests require certain equestrian wear, read on to find out more about the correct equestrian clothing for show jumping.
Correct Equestrian Wear
It must be said that the dress code for show jumping is a lot more relaxed than other equestrian disciplines such as dressage but it is still important that you wear the correct equestrian clothing. The British Show Jumping Association (BSJA) has a set of specific rules regarding correct equestrian wear.
Horse jumping breeches should be light in colour such as white, beige, yellow or fawn. Chaps or half chaps are not allowed to be worn when show jumping, instead, it should correct (preferably black) long or short riding boots. Black leather gaiters are also permitted.
Riding jackets
Riding jackets are essential of show jumping equestrian wear. These should be fitted/tailored and although they can be any colour, black is the best choice. You can search for horse riding jackets for sale on Equine Superstore. The BSJA also make items of equestrian clothing. Those on the Grand Prix show jumping tour wear red riding jackets.
The show jumping jacket is probably the most important thing to get right. There are quite a few rules you have to follow which apply to the show jumping jacket these are explained in short below:
You can choose between traditionally or new-style jackets

Riders can also register their own colours and sponsors. For this you are allowed to choose two base colours with different coloured piping

When you register new colours you will find that no rider can ride in colours already registered and you can only register one set of colours per person

You can have up to 3 sponsor logos on the right sleeve and one on the breast pocket

The British Show Jumping Association will appear on all left hand jacket sleeves

If you are choosing a new style show jumping jacket and are a rider ranked 251 and below on the BSJA Rankings you will have a choice of six colours, black, navy, grey, brown, dark green and burgundy

These jackets should be in one colour or one colour with a panel

The piping can be in white or a complimentary colour

If the weather is really hot then riders are allowed to compete without their jackets. You will need to wear a white long or short sleeved shirt and ties must be firmly secured
Riding hats
Riding hats are essential items of equestrian clothing regardless of which type of show jumping event you are taking part in. These items of equestrian wear need to conform to the safety standards of your particular horse jumping competition.
The hats for show jumping must meet EN1384, ASTMF 1163, PAS 015 or SNELL E2001 with kitemark or SEI. If you are going to wear colours then they must be peaked, plain dark coloured, registered colours or colours which coordinate with the show jumping jacket.
Riding shirts
Some show jumping competitions insist on the wearing of a shirt and a tie underneath the riding jacket. All these pieces of equestrian wear should be white or pastel. You can search for a wide range of equestrian clothing for sale on Equine Superstore.
Every shirt has to be white or pastel coloured with white collars

Each shirt has to be accompanied with a tie or hunting stock

For ladies the white collars have to be high and you can wear the shirt without a tie or stock

If you are wearing hacking jackets then coloured ties or stocks can be worn
Other Equestrian Wear
Jodhpurs – You can wear white, pale yellow or fawn coloured jodhpurs

Horse Riding Boots – Traditional style riding or jodhpur boots should be worn. Plain black or brown leather gaiters cut in the traditional riding boot style can also be worn

Gloves and Body Protectors – Gloves and body protectors are both optional

Show Jumping Hats – Protective headgear has to be worn at all times and the harness must be fastened securely

Equestrian Wear Not Permitted – Polo necks, chaps, half chaps, multi coloured or patterned hats

If you have long hair, it needs to be tied back neatly in order to compete in show jumping competitions
Articles