How to choose a horse exercise plan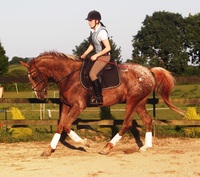 Ever wondered what exercise plan you should use? Or what you should plan to do if your horse has had a little holiday? Horsemart reader Erin Ronan shares a sample "back into work" horse exercise plan which has proved effective for her.
To work on your horse's fitness you should gradually work over a period of weeks, this is so your horse's body can adjust to the changes in the level of exercise you are administering. While it could be tempting, never take short cuts. Sudden increases in work can lead to injuries like pulled or torn muscles and so meaning time off work.
It is important to remember that every horse is an individual and the period of time to get it fit will be influenced by the age of your horse, how fit the he is now and any injuries your horse may have had.
Exercise plans can be broken down into three parts:
Slow work to harden up bones and tendons

Work to improve strength and stamina and basic fitness

Faster work to prepare for things like cross-county



By completing these stages your horse should be fit to compete regularly in a variety of disciplines
Plans should always be worked around what you can do and what your horse can cope with mentally as well as physically. You should always remember to give your horse atleast one day off a week, and give him regular turn out to stretch, relax and to buck and play and just be a horse!
First of all, after a period of time off the best thing I think you can do is at least 4 weeks of hack work before anything else. Hacking over various terrains and using hill work helps to condition muscle, stamina and keep your horse thinking forward.
Here is my sample "back into work" horse exercise plan:
Week 1 – Hack work in walk (lunge work when unable to hack)
Week 2 – Increase hacking
Week 3 – Increase hacking and add in trot work
Week 4 – Same as week 3. More trot work (maybe add in 15-20 mins schooling if needed/unable to hack)
Week 5 – Start schooling, beginning with 30 mins max. Continue with hack work:
2x 30min schooling, 2x hack & trot work, 1x 30min pole/gridwork, 1x lunge.
Week 6 – Increase time schooling and introduce canter work when hacking
2x 45min schooling, 2x hack with a 2 min canter, 1x 45 min jump work, 1x lunge.
Week 7 – Build up canter time, including hill work. Continue schooling, introduce more jump work
2x hack with one 5min canter and one 3min canter, 1x cross country jump schooling (if available), 1x 30min hill work, 1x 45min jump/gridwork, 1x 45min schooling.
Week 8-9 – Continue current work and introduce fast work (strong canter and controlled gallop, working on changing gears within the pace).
Don't force yourself to be strict with a horse exercise plan, it should be guidlines, if needed you may need to do more of something else and be flexible to change. Listen to your horse, if he looses concentration in the arena, school less and do more hack work. If he needs something to focus on do more schooling or gridwork.
Horse exercise plans should be worked around what you need to do.
Photo provided by Erin Ronan.
Browse horses for sale or place an ad on Horsemart now.
Articles