What to look for when buying a riding hat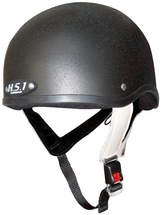 by Georgina
There are a number of words, often used interchangeably, to describe riding headwear, including; skull caps, helmets, crash caps, and velvets. They all to a greater or lesser extent offer protection against head injury resulting from a fall.
The last 20 years have seen a real change in attitude towards the wearing of these hats. In all major affiliated sports and most local show they are required wear. They come in a wide range of styles to suit different riding disciplines and head shapes. Before buying one you should make yourself familiar with the different levels of protection offered by the different Kite Marks and which level is required in your sport.
Hats used to be divided simply into velvets and crash hats, which you could cover with a silk or velvet cover if you wanted. There is now much more crossover between these two versions.
Buying the right riding hat is essential and you should always wear a hat riding a horse. Riding hats should always fit well do that they protect you from any falls or accidents. This article will give you some tips on how to buy and measure a horse riding hat.
Measuring and Buying a Riding Hat

Begin by measuring the circumference of the riders head with a flexible measuring tape. You should measure around the forehead and above the top of the ears. You shouldn't stretch or pull the measuring tape too tight or the measurement will be inaccurate.




Look up the measurement of the riders head alongside corresponding riding hat sizes. Remember the sizes are different for men and women. You should also be aware that some horse riding hats are measured on head circumferences and others on riding hat sizes so you should have both measurements ready for when you go shopping.




You should go to the tack shop to check and try on different riding hats. Even if you plan to order a hat online it is essential you try similar ones on so you know the size that is right for you.




When you are trying on the riding hat you should shake your head from side to side to ensure that the hat fits.




If the interior lining can be adjusted then try it for a better and more secure fit.




Attach the chin strap to ensure that it is comfortable.




If you want to protect your helmet then you can buy riding hat covers. These are also fun if you want to change the colour of your riding hat without spending money on a new one.
Riding hats - Best Brands
Harry Hall International Riding Hat, costing from about £33 - £40 according to size, is traditional velvet with webbing fastening. Their Embossed Riding Hat is a cross between the 2 styles, with a front ventilation feature , smart microfibre covering and Coolmax moulded and padded inner lining. A very good all rounder at £53 – 70.A similar model from Champion costs £45 – 54 and has flexible peek to guard against nose injuries and shock absorbing polystyrene lining.
For those who spend a lot of time in the saddle the Just Togs Equilite is very lightweight and comfortable. It also has a unique independent headband design to adjust to accommodate different head sizes, or just fit uniquely to you:£26 - £32.Their most expensive version is the Sprint Extreme which has side as well as front ventilation, a soft headband to wick away moisture and a leather harness - £89 - £106.
Traditional skulls start at around £26 from Gatehouse. More expensively, the Charles Owen Pro 11 has high Tech features including ventilation front and rear and covers with the same, embedded silver ions for antibacterial protection and scientifically designed grippers for superb fit and costs £89 - £106.Their Ayr8 version is favoured by many leading showjumpers including Ellen Whitaker and is both fashionable as well as offering supreme comfort and safety, £123 - £148.
Many show riders favour the Charles Owen Fiona's Hat which is very elegant, with a deep back, flesh coloured leather harness which is very inconspicuous and slim in its profile. It comes in black and navy as standard or in grey, brown and green to order, to match your show jacket. It is a really excellent compromise between style and safety.
Many ranges do special designs to suit children's heads and Polly do one with a sticker set so children can customise their hat and so be encouraged to use one.
Whatever you decide, always choose with the help of a qualified fitter to get the best possible protection.
Articles