What to Buy from a Tack Shop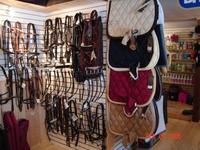 Tack Shops
Horse riding tack is the name given to the various equipment and accessories that are worn by horses when being ridden. There are a number of different types of horse tack available from good tack shops, all with various purposes. When combined, horse tack makes riding a horse safer and more comfortable. See the following guide to assist you on what to buy from your local tack shop.


Saddles
When you visit tack shops, one of the most important pieces of equipment you will need is a saddle. This horse riding tack is used as a seat on the horse for the rider. It is fastened to the horse with a girth, which is a strong strap that is tied around the horse's belly. Saddles can be accompanied by a saddle pad that sits between the saddle and the horse's back for padding.


Stirrups
This horse riding tack is used to support the rider's feet when riding. They hang either side of the saddle. To avoid a rider becoming dangerously stuck in the stirrups in the event of a fall, some have safety bars incorporated that are designed to prevent this from happening.


Halters
This horse tack goes around the horse's head and is used to lead or tie the horse. The lead rope is a separate item that is attached to the halter for the rider to communicate his/her commands.


Bridles
A bridle is different to a halter. It works with a bit, which is a small piece of horse tack that fits inside the horse's mouth. The bit is connected to the bridle and further assists the horse to know what the rider wants done. There are plenty of different sorts of bit you will find in a tack shop.


Reins
This tack shop item is usually a rope, or leather straps that are attached to the bit, and held in the rider's hands. The rider communicates his directions through pulling the reins in certain ways.

The above is a list of the main types of horse riding tack that can be found in all tack shops. The tack shop will stock all sizes, and it is important that you know what sizes to buy for your particular horse before heading down there.


Articles