Tack shop: Choosing the right one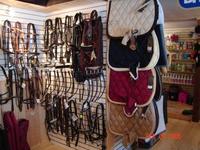 There are plenty of different places to buy horse tack and it is important to choose a tack shop that is suitable for you and your horse. This quick guide outlines how to pick out the best tack shops to use when buying horse tack.
Some tack shops specialise in horse tack for certain riding styles such as English or Western and if this is the case, make sure you choose the correct type of horse tack shop. Larger tack shops will probably stock a wider range of horse tack.




One of the most important things you should consider when looking for a tack shop is how experienced the owner and staff are. Horse tack is often very size specific and there is a right way and a wrong way to do almost anything with horses so using tack shops that have good staff to advise you (especially if your are inexperienced yourself) is a good idea. Horse tack can also be expensive so you want to make sure your money is spent on horse tack products that are suitable and will last.




Asking around your local stables, speaking to your vet, or asking on the Horsemart forum for recommendations on tack shops is a good idea as many people will have used them before and can testify to their quality.




Some horse tack shops will offer extra services as well which makes them even better to use. For instance, it is vital for a horse saddle to fit correctly, and some horse tack shops will offer assistance in saddle fitting.




If possible, try and choose a horse tack shop that offers repairs to your horse tack. Over the years it is inevitable that horse tack will be subject to wear and tear and knowing a tack shop that will fix it is a big advantage.




Prices should not be overlooked when choosing a horse tack shop, horse tack is expensive so it is important to choose the cheapest tack shop (without compromising quality or service).




Location of tack shops is also an important part, you don't want to have to drive for hours (possibly with your horse) to buy horse tack and have it fitted.
Articles