Sizing and Fitting Stable Rugs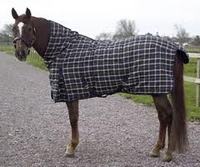 Stable Rugs
Have you ever been confused about how to find stable rugs to fit your horse? If so then this article will really help you out because it will explain how to size and fit horse rugs.

Stable rugs will only do their job if it fits your horse properly. It might seem like an extremely obvious point to make but it might surprise you how many people just go out to buy cheap horse rugs without any idea of the size of their horse and what stable rugs will fit.

A lot of people think that it doesn't matter if stable rugs are a bit big because all the extra fabric will keep them warmer; this is not the case. Stable rugs that are too big are more likely to slip about and cause rubbing. When stable rugs are in place they should start just in front of the withers and reach to the top of the tail.

Sizing Stable Rugs


To find out what size stable rug you need to buy you should measure your horse from the centre of his chest, along his body to the end of his quarters. These measurements will be sufficient to determine the size of rug you will need.
Fitting Stable Rugs


When you put on a stable rug you should realise that it will only stay in the right place if the securing system is fastened correctly. Chest fastening and cross surcingles are the most common. Some horse rugs might also have leg straps or under belly harnesses. As a tip front leg straps are not recommended, back leg straps can be fitted on some rugs. If your horse is not used to wearing leg straps then you should fit them one at a time so that he gets used to them.


Browse stable rugs for sale on Horsemart and find cheap horse rugs on Equine Superstore.

Articles