Selecting a Horse Trailer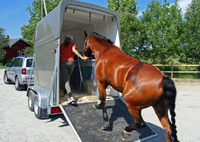 Choosing Horse Trailers
If you own a horse, chances are at some point you will need to use horse trailers. They are the best and easiest way of transporting a horse around the country and elsewhere. Buying a horse trailer can be quite a big financial outlay so it is important when selecting a horse trailer that you buy the correct one for you. Horse trailers come in many different sizes and configurations and buying a horse trailer that is the wrong type could make transporting your horse even harder. This guide outlines what things to consider when selecting a horse trailer.


Buying a Horse Trailer


• By far the most important factor to consider when selecting a horse trailer is what size you will need. It goes without saying that more horses need more space. If you are transporting more than one horse, it needs to be large enough for the big horse.

• Another important thing to consider in your search for horse trailers is whether you require living quarters. If you travel a long way or on a regular basis, living quarters may be beneficial, if you never have to stay overnight however, then you can consider buying a horse trailer without living quarters.

• When selecting a horse trailer, make a list of the features you want so that you have a clear idea in your head. These can include ramps for loading or internal padding for the horses.

• Something that mustn't be overlooked when buying a horse trailer is whether or not you have a vehicle capable of pulling it when it is fully loaded. Horse trailers will generally require some sort of 4x4 or pick up truck to be able to safely tow and stop it.

• The next step is to go around the dealers and look at the horse trailers in person. This is the best way to go about selecting a horse trailer as you get to see many at once and can make a more informed decision.

• Similarly, when selecting a horse trailer you think you like, take it for a test drive as this will tell you how it handles and whether or not it is suitable for your vehicle. Buying a horse trailer is a big decision and shouldn't be taken lightly.


Articles