Riding clothing for children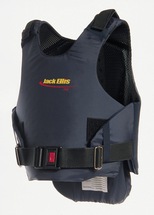 by Angela Krupinski
Buying any form of children's clothing can be expensive, especially as children grow so quick! Add a hobby in to the equation, and more than one child, and the cost can rise. So, where is the best place to get your children's riding clothing from?
Before you kit your little one out in all the latest and most expensive riding wear there are a few things to consider:
If this is a new hobby and your child is having lessons at a riding school, follow the riding schools guidelines on what to wear for a couple of months, usually everyday clothing can be adapted during the early stages. If your child enjoys riding and wants to continue then is the time to start investing in the correct clothing. Often you will find a local second hand riding wear shop that is ideal for first riding clothes. These sometimes open on a part time basis and are small so you may need to ask your riding instructor if there is one in your area. They are ideal for items such as jodhpurs, riding boots and jackets. And when your child grows out of them, providing they are still in good condition, you can often re-sell through the same shop.
Alternately, if you do want new equipment, there are a number of on line outlets that have a wide range of children's riding wear, along with some of the main stream supermarkets branching into this area as well. Your local equestrian outlet will also have a section for children's clothing, and again, unless you live in a main town these can sometimes be difficult to find. The internet or other local riders should be able to help finding a store near you.
Safety Items
In relation to purchasing a riding hat for your child; this is one item you need to be a little more particular about as it is a safety item. The hat will need to be fitted professionally to your child to ensure it will not come off in the event of a fall. The hat will also need to comply with the latest safety standards and be replaced regularly, regardless if it has been out grown of or not. Although there may be a good second hand hats out there, you can't guarantee the history, and it is therefore not worth taking the risk. These can be purchased at your local equestrian outlet where staff will know how to fit these products.
Back Protectors, again, are a safety item and the latest safety standards need to be taken into account when purchasing. This is an item, if chosen carefully, that can be "handed down" as long as you thoroughly check the quality first, paying particular attention to worn areas, and checking any removable panel sections for signs of damage or dents. If in any doubt, purchase new from a main outlet where you can have the confidence of a professional fitting.
Articles