Peper Harow Horseboxes Guide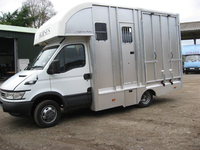 Peper Harow Horseboxes
have been trading since 1994 and have grown from strength to strength since then. Their coachbuilt horseboxes for sale are very popular as the customer has managed to build up quite a customer base.
Peper Harow horseboxes
have their own factory and paint shop for producing and finishing new models. This is also where servicing, repairs, testing, refurbishments and valeting is carried out.
Trophy Twin horseboxes for sale
These are coach-built and have a small day living space, roomy tack locker and 2 stalls for large horses. Day living includes:
•

Gas burner hob and sink
Trophy Transporter
This has been specifically designed to carry valuable livestock or for those who think horses may harm each other in transit. The partitions are full height which prevents any escape possibilities and also separates mares and stallions. The full tilting cab allows engine and cab access easily. Groom's area has roll-out steps, window, lights and insulated roof.
Conversions and other coach builds are also available from Peper Harow Horseboxes.
Articles