Making Sure Stable Rugs Fit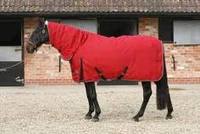 Fitting Stable Rugs
It is really important when buying stable rugs that you make sure they fit. There are some really great cheap horse rugs available but it is so essential that before you hunt for the best bargains that you measure your horse correctly.

Many people underestimate the importance of having well fitted stable rugs. Buying horse rugs is not like buying school uniform; you do not buy it so they can grow into it. Having a larger size with more material does not keep the horse warmer. If you buy stable rugs that are too large then you will find they slip about and can rub or cause sores at pressure points.

You will know when stable rugs fit because they will sit comfortably in place. The horse rug should start just in front of the withers and reach the top of the tail. If the stable rugs have tail flaps then the rugs will extend further down the dock.
How to Know What Size Stable Rug to Buy


In order to know what size stable rugs you need to buy you should measure your horse. Measuring your horse is much simpler than you might think. All you need to do is measure from the centre of your horse's chest, along his body and to the end of his quarters. Only after you have measured your horse will you be able to buy stable rugs that are exactly the right size.
How to Fit a Stable Rug Correctly


Stable rugs will only stay in place if you fit them correctly. When the horse rug has been fastened you should be able to fit a hands width between it and the horse's chest so that the horse can be comfortable when grazing. All straps used for fastening should have a hands width of space so that they do not cut into or rub the horse.


Browse stable rugs for sale on Horsemart.

Articles