Huish Horseboxes Guide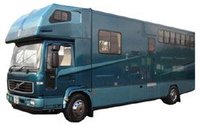 Company information and a profile of Huish horseboxes for sale.
Started the process of searching for horseboxes for sale online? Scouting out the perfect horsebox can be tricky, one of the main reasons why many horsebox manufacturers offer a custom-made service. Read on to find out a little more about Huish horseboxes and the services it has to offer.


Huish Horseboxes: Company Profile

One company that does just that is Huish horseboxes, although if the cost of a brand spanking new horsebox is a little out of your price range, you can find second hand horseboxes for sale on the Horsemart website.

As mentioned previously, Huish specialises in built-to-order horseboxes enabling an owner to request specific modifications to obtain a horsebox that matches perfectly with individual needs. The shrewd buyer, however, may be able to find suitable Huish models available for purchase second hand on websites such as Horsemart.

However you choose to buy, there's certainly one thing you can be sure a Huish model will deliver – reliability. This company has been operating within the horsebox industry for over 20 years, so it's certainly got the technical expertise and experience demanded by the modern day equestrian enthusiast looking to make the significant financial investment of a horsebox.

Finally, one of the biggest bugbears for any horse owner fretting over differing horseboxes is storage space, and that's one area where Huish certainly perform well, as all models produced by the company come with a design that ensures storage space is never at a premium.

Find horseboxes for sale online
Articles