How to Saddle a Horse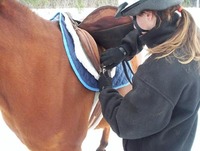 How to saddle a horse is not difficult but it is important that you do it correctly without making any mistakes. Equestrian saddles can be very different from each other in shape but the principle of attaching saddles to a horse is usually very similar. This article should help you to fit your horse's saddle perfectly so it is ready to ride.
Equipment needed for saddling a horse
Horse Grooming Kit

Saddle Pads

Saddles
Saddling your horse
Make sure you have groomed your horse thoroughly before fitting the saddle to your horse. You should check over your horse for any swelling, cuts or bruises before you think of riding. Give your horse a good brush over with a curry comb and a dandy brush to remove all of the dried mud or dust that may have collected on the horse's coat. If you do not remove dirt before saddling up the horse may sweat under the saddle and the dirt could rub and be sore.

You should always saddle from the left hand side of the horse; just as you would begin grooming or other activities from the left.

When putting the saddle pad on the horse's back you should be certain that the front of the pad is just above the horse's withers.

Now you are ready to put the saddle on. Make sure that the front of the saddle is also just in front of the withers. The saddle should sit nicely on top of the saddle pad and must be centred on the horse's back.

Buckle up the girth or cinch. It should fit neatly behind the horse's front legs and it must be snug but equally not too tight. You have to check that the strap isn't cutting or rubbing the horse's legs.

A good measure to make sure the cinch is not too tight is when you are buckling up to stick a finger between the belt and the horse's belly; then you know there is definite breathing space.

If you have a back cinch then buckle it in the same way.

Check that your stirrups are adjusted properly; you should have two fingers widths between you and the saddle when standing in the stirrups.

If you are using a saddle skirt then you should attach a breast collar to each side.
Have your say
If you have any tips of your own then why not leave them in the comments section of this page? Your tips might just help a fellow horse lover out.
Articles