How to Make Use of Horse Rugs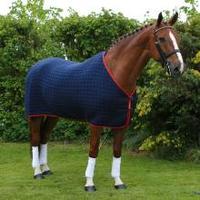 Horse Rug Help
There are lots of different types of rugs for horses and all are designed to be used for a specific purpose and at a specific time. For instance, horse turnout rugs keep the horse protected from the elements when outside in the winter. A horse rug can be quite expensive so it is important to buy horse rugs for sale that are suitable. The horse's rugs also need to fit correctly to not restrict movement and not fall off. Read on to find out more information about rugs for horses.
Use Horse's Rugs Correctly


• Probably the most common form of horse rug is horse turnout rugs. These are used primarily during the winter (but sometimes in the summer) and these rugs for horses are waterproof to protect the horse from the wind and the rain. Horse turnout rugs for sale can come in a variety of different styles and thicknesses depending on when they are to be used. Thinner horse turnout rugs are used in the summer and a thicker horse rug is used in the winter for extra warmth.

• Some people can make the horse's rugs usable all year round. Thinner horse turnout rugs can coupled with a stable rug underneath in the winter for added warmth. Stable rugs for horses are designed for indoor use mainly to keep the horse warm and are thinner, non-waterproof versions of horse turnout rugs.

• There are other types of rugs for horses too, Show rugs are intended for use in horse shows and they keep dust and dirt off of the horse's coat. This type of horse rug is not particularly practical for everyday use however.

• Fly sheets are rugs for horses that are very thin and are designed simply to stop flies or other insects getting into the horse's coat and biting. These rugs for horses are very lightweight and breathable meaning that the horse's rugs won't cause him to get too hot.

• Regardless of which type of horse rug you need, it is essential that it fits correctly. Rugs for horses should not rub the withers or the shoulders and the horse rug should not be too small to restrict movement. If the horse's rugs are too large, they will not do their job properly and could even slip off, causing the horse to trip. For more information, refer to our guide for measuring the horse's rugs.

• A horse rug can be quite expensive but if you start looking for rugs for horses at the end of the season, many companies sell off old stock at reduced prices. You can buy horse turnout rugs for sale on EquineSuperstore.co.uk.


Articles