How To Find Cheap Horse Riding Clothes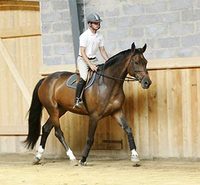 Finding Equestrian Clothing
There are some items of essential equestrian clothing that can add to the costs of buying and owning horses for sale, fortunately, there are a number of ways to find cheap horse riding clothes that can make the whole process that little bit cheaper. Some horse riding clothes, such as riding helmets, are essential whereas some others may not be necessary until you start showing or competing with horses. Read on to find out more about cheap equestrian clothing.


Equestrian Clothing For Cheap


• Things such as riding helmets are essential for use when riding horses and if you are buying your first horse for sale, you will need to budget for this. The price of riding helmets can vary considerably but you can find cheap riding helmets, such as the Dublin Onyx Web Harness for as little as £30. Riding helmets have proven to save lives so make sure you always wear one.

• Another essential item of equestrian clothing is riding boots. Riding boots ensure that the rider has a sturdy grip in the stirrups and they also ensure that your ankle and lower leg has some extra support. These items of equestrian clothing often have a pronounced heel that helps to stay in the stirrups. You can search for a wide range of riding boots for sale on Equine Superstore.

• Breeches are one of the most common items of horse riding clothing and they need not cost very much. These items of equestrian clothing are made to be very tight fitting so that it reduces the chance of getting caught on the saddle and they often have thicker inner legs to prevent soreness from the saddle. Like a lot of horse riding clothing, riding breeches for sale are available for a huge range of prices and styles.

• In terms of safety, some of the best and cheapest equestrian clothing is high visibility stuff. You can buy a wide range of high visibility horse riding clothing on Equine Superstore and this is excellent, especially when riding on the road or in low light conditions.

• There are many other horse riding clothes that may not be necessary until you move on in your equine career. For instance, many competitions such as dressage, show jumping and eventing require special show quality equestrian clothing.


Articles