How to Choose Riding Hats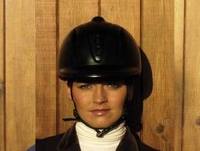 Choosing a riding hat
Choosing riding hats is arguably the most important aspect of your horse riding clothing. These horse accessories are designed to prevent riders from sustaining serious head injuries in a fall. Accidents without sufficient headgear could cause traumatic brain injury, brain damage, or even death. It is for this reason that a riding hat should be chosen carefully.
•

When choosing this important riding clothing, it is vital that you realise that all manufacturer's will produce riding hats of different shapes and sizes. This means that when you come to replace a riding hat, you should not automatically go for the size that you had before. Instead, measure your head each and every time you go to buy them.
•

Ensure that all your protective riding clothing meets official safety standards. Riding hats should be BETA certified so that you know that they meet safety regulations. Those approved like this have been subject to rigorous testing.
•

When looking for a riding hat, arrange your hair in the same style that you would wear it with the hat on. Ponytails and plaits can change the fit of riding hats dramatically, which could stop your hat from protecting you fully.
•

Place the hat on your head to try it out. It should be snug around your whole head, but not to the point where it cuts into it and gives you're a headache.
•

With the hat still on, shake your head side to side. The riding hat should not wobble or wiggle, but should move with your head. If it slides against your hair, you will need to try a smaller size on.
Articles