Horse riding clothes for beginnners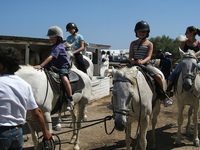 By Kim Duly
Horse riding is a fantastic hobby; it gives you not only the chance to create a bond with a living creature but also the opportunity to look good on a horse! But don't worry, there is no need to go out and buy top hat and tails straight away, so here is a guide to what to riding clothes wear for new riders.
For your first lesson there is usually no need to go out and buy anything. As long as you wear comfortable, non restrictive trousers, a sensible top and boots with a small heel you will be able to experience riding. The key is to be safe and comfortable so that you enjoy your experience. Legs need to be covered to avoid rubs from the saddle and it is a good idea to wear long sleeves especially if you are riding through woodland. A good BHS approved riding school should provide you with a safe riding hat, although they may charge a small fee. Look for the safety approval numbers PAS 015 and EN1384. 189
When you have enjoyed your first ride and want to continue it makes sense to buy the correct rider clothing, partly for safety and also for comfort. The first things to buy would be a pair of jodhpurs or breeches and a pair of riding boots. You can use short or long riding boots depending on your own preference. You may also wish to purchase your own riding hat. This is a very important purchase as it will save you time when you arrive for your ride and will be a lot more comfortable for you. It is essential to buy your riding hat from a reputable tack shop with trained hat fitters. Please do not buy a hat from the internet as it may not fit you correctly and if it does not fit it may not protect you in the event of a fall.
Other items you might like to buy are a pair of riding gloves and a body protector. Gloves add grip on the reins and help prevent blisters. Body protectors are useful if you are riding out on hard ground and when you start learning to jump. They cannot completely prevent injury from a fall but can lessen any damage. As with hats, these should be purchased from a good tack shop with a knowledgeable advisor. All other can items can be purchased from a tack shop or from one of the many online tack shops.
Articles