Horse Box Buying Guide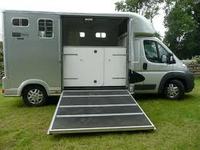 Horse Box Advice
Horse boxes
come in countless shapes and sizes and offer a large range of choice. Whether you are looking for a new or used horse box for sale, there are certain considerations you should bear in mind when searching, so that you end up with the right features and facilities for your own needs.
Certain horse boxes are better suited to daytime use only, while others are fitted with living features such as beds, kitchens and bathrooms. When looking for a horses box, carefully consider what your actual use will be like. Most people find that a small sized horse box such as van conversions are the most appropriate. Of course this will be entirely unsuitable for someone with several horses who travels to shows constantly.
If you are looking for a used horse box for sale rather than a brand new one, there are certain checks you should perform when you view it. These include:
•

Ramp – this should be easy to lift and the ramp floor should be in good condition, i.e. good number of plywood layers, non-slip surface and horizontal batons.
•

Floor – the best flooring is supported by galvanised weld mesh which provides a hoof catcher. Lift up any mats to check the floor is alright and not rotten.
•

Bodywork – all walls should be sufficiently fixed and stable so that there is no rattling in transit. This can upset the horse and make loading very tricky indeed. Ensure ventilation is more than adequate, padding is not torn and there are no leaks or holes.
Always test drive a horses box you visit for sale. Try it out on both A and B roads and drive on all sorts of roads. Listen out for unusual sounds from the engine or other mechanics. Remember, a horse box must be safe for both you and your horse.
Articles