George Smith Horseboxes Guide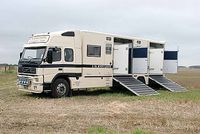 George Smith Horseboxes
began business in 1988 and has since expanded from a tiny business to a large complex that houses up to 12 vehicles at a time.
Starting as a repairs service, in 1995, they took the decision to manufacturer and offer their own horseboxes for sale. The combination of chassis and bodywork meets all customer needs.
From 2 stall to 12 stall international travel horseboxes for sale, there is plenty on offer.
George Smith Horseboxes use modern styling but also focus greatly on their ability to harness effectively.
Many of their horseboxes for sale are made for commercial purposes due to strong links in the racing and bloodstock industry. For this reason, the horseboxes are built to last and can take high mileage.
Articles