Galloper Horseboxes Guide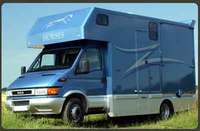 Learn about Galloper horseboxes for sale in this article.
When it comes to browsing the online marketplace for a horsebox for sale, there are a number of different brand names to consider. However, one company that has made a significant impact on the market since its launch only two years ago is Galloper. Keep reading for an in-depth profile of Galloper horseboxes for sale.
Galloper Horseboxes: Company profile
Although as a company, Galloper is a relative newcomer to the industry, the team behind this emerging brand have extensive knowledge of the requirements of horse owners having been involved in coachbuilding for a combined 50 years.
Regardless of your budget, Galloper has a wide range of horseboxes from luxury models to affordable beginner boxes. In addition to the manufacture of horseboxes, this company also run a dedicated spares and refurbishment service.
Galloper offer a number of popular ranges, of which one ofthe best known is the Galloper 350. This three and a half ton vehicle, with a substantial payload, was originally designed with the transport of racehorses in mind, but has proved popular across the spectrum. Fitted with all the latest safety features, this particular horsebox boasts spacious storage and lightweight ramps. For the luxury buyer, the XL version may well appeal.
The company's biggest seller, however, is the Galloper 650. Designed to accommodate two horses, the 650 incorporates non-slip rubber matting, a full length partition, tack locker and a horse shower into the design. The key to this horsebox's success has arguably been in the pitch – attracting owners with less than two horses making regular short journeys rather than lengthy trips.
Finally, the Galloper 750 will appeal to anyone looking for a horsebox with a minimalist design, cutting out all the unnecessary features that can sometimes make the internal space seem claustrophobic. With room to carry up to three horses, this horsebox makes full use of lightweight panel technology.
Articles