Fitting an Australian Saddle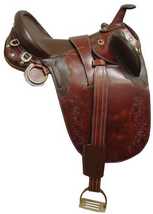 Horse Saddles
A great deal of riders in recent years have decided to try Australian horse saddles. Many people feel that Australian saddles are more durable and much more comfortable if you are riding across country for long periods of time. This article will advise you on fitting a saddle correctly.
Fit Australian Horse Saddles
•

Don't try to fit an Australian horse saddle until the horse is fully grown.
•

Straighten a wire coat hanger and wrap some tape around the ends so they are not sharp.
•

Bend the wire coat hanger across the horse's withers; this can be called tracing the withers.
•

You then need to keep the coat hanger somewhere safe where it won't get knocked and bend out of shape.
•

When you go to buy the saddle from your local tack shop, take the coat hanger with you and tuck it underneath the selection of Australian saddles until you find one that is as close to the shape of your horse's back as you can get it.
•

Once you have bought the saddle, take it back to your stables.
•

Put a saddle pad on top of your horse's back. Then cover the saddle pad with a thin clean towel this will prevent the underside of the saddle from becoming dirty until you know it fits and you want to keep it.
•

Look at the way that the saddle sits on your horse's back. If it tilts to one side then you should insert a wedge that is designed for Australian horse saddles.
•

Once the saddle looks comfortable on the horse's back mount the horse and have a little ride. Walk, trot and canter so that you can check the saddle fits in all three gaits.
Articles