Deciding on a Horse Blanket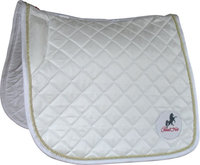 Choosing a Horse Blanket
Horse blankets are useful for horses to protect them from a number of different things. It is fair to say that horses have a certain amount of natural defences against certain conditions, but sometimes extra help is needed in the form of horse blankets. Deciding on a horse blanket can sometimes be a confusing activity as there are so many types available for different situations. For tips on buying a horse blanket, see the following information on what is out there.


Day Sheets
Buying a horse blanket like this will help to protect the horse in mild weather, as well as keep the coat clean. Day sheets tend to be made from lightweight materials like acrylic or cotton. These are not waterproof, but can be used as an extra layer in cold weather.


Turnouts
Deciding on a horse blanket will probably involve choosing a turnout. This is used when the horse is in pasture. Turnouts are good for active horses that spend a lot of time outdoors.


Anti-Sweat Sheets
Buying a horse blanket like this is very useful for after the horse has exercised. These sheets cool a horse down after being active, and are made of cotton or poly-cotton blends. They are not designed to be durable and should not be used for other times.


Fly Sheets
When deciding on a horse blanket, you ought to consider a fly sheet for the summer. This is designed to stop the horse from being bitten by insects in hot weather. They provide ventilation for the horse but still protect from horse flies, mosquitoes and other insects that want a bite.


Articles