Cleaning and Repairing a Horse Rug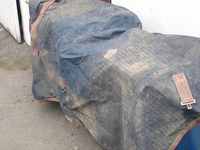 Horse Rug Cleaning and Repair
A horse rug should be looked after properly in order to make it last for as long as possible. By carrying out simple tasks such as cleaning a horse rug regularly, you can avoid having to buy expensive replacements frequently. For a guide on horse rug maintenance, including repairing a horse rug, see the following tips.


Cleaning a Horse Rug
• Firstly, remove all mud, hair and dirt from the horse rug. Do this with a scrubbing brush and then shake the rug off. Use a lint roller to remove any hair left on it. This makes it easier when washing.

• For any stains on the horse rug, use a good stain remover on the patches. Remember to test it out first in case it bleaches your rug.

• When cleaning a horse rug, tighten all the straps and tuck in anything else that may dangle such as surcingles.

• Wash the rug in your washing machine with regular detergent. You may want to put it through two cycles. Wash the rug several times a year. Many people wash theirs at the end of each season.

• When drying, do not use a tumble drier, as this could shrink the material. Instead, hang it up outside, or in your bathroom so it air dries naturally.


Repairing a Horse Rug
It is not uncommon that the rug will become ripped or torn. In these instances, repairing a horse rug will be necessary. Small tears can be repaired with an iron on patch, or by sewing them up.

Larger tears that affect all of the rug's layers will need professional help. If you are not showing your horse, then repairing a horse rug will be the best option. However, show horses will require a brand new horse rug altogether.


Articles