Edit in sitelab
Cleaning a horse rug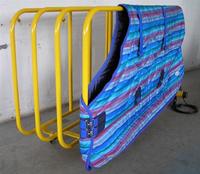 Here are some ideas to help with washing your horse rugs. Most owners wash their horse rugs at least once a season. Using an under-layer, such as a cotton summer sheet or a woolen blanket in cold weather, will help, as you can wash the under-layer regularly and conveniently, so there is always something clean next to your horse's skin.
Preparing to wash
First, try to rub off as much dirt from the rug as you can. Use a scrubbing brush, and remove hair with a lint roller. Use a stain remover on any tough stains – but make sure to test a small amount on the rug to make sure it doesn't cause discoloration. Shake the rug off, tighten all the straps and tuck in dangling parts such as surcingles.
Old tights can protect your washing machine
If you're worried about the damage caused by the metal fittings clanging around in your washing machine, try tying a length of old tights around the sharpest areas, to cushion them.
Wash at 30 degrees celsius
Always wash a horse rug at 30 degrees. Hand washing is a good idea but often impractical. If you have trouble washing your horse rugs, never fear, because there are more top cleaning tips below.
Never dry clean a horse rug
It's not appropriate and it will damage the horse rug, so avoid dry cleaning at all costs!
Use a launderette
If you can't fit your horse rug into your washing machine, you might consider using specialist horse rug laundering services. These are effective, but if you need to save money it might be worth asking a local launderette if you're allowed to wash horse rugs in their machines. Many launderettes will have one machine designated for dirty or muddy items which you can use. Remember to check the temperature and set it to 30 degrees, as it is likely to be set high. This can be a lot cheaper than using specialist services.
Buy a pressure washer
Many horse owners do away with washing machines and launderettes altogether. Instead, they buy a pressure washer. Prices start around £70 at DIY stores, but you might offset the cost by clubbing together with other horse-owning friends. They're also useful for washing cars and paving stones! When applied to horse rugs a pressure washer blasts away mud and dirt very easily. Plain water may well be enough, but most pressure washers also have a reservoir in which you can put some rug shampoo if you want to.
Repairing a horse rug
It is not uncommon that the rug will become ripped or torn. In these instances, repairing a horse rug will be necessary. Small tears can be repaired with an iron on patch, or by sewing them up.
Larger tears that affect all of the rug's layers will need professional help. If you are not showing your horse, then repairing a horse rug will be the best option. However, show horses will require a brand new horse rug altogether.
Articles