Edit in sitelab
Build a Grooming Kit for Your Horse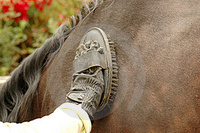 How to Build a Grooming Kit for Your Horse
A home grooming kit is one of the most important things you need when you own a horse. Knowing what to do with everything in your groom kit ensures that your horse is groomed to the best quality. To check you have a full grooming kit follow these tips.
Tack Box
Your home groom kit needs a good tack box to house all your essential items. The tack box should be stable and sturdy, and should have different compartments so your home grooming kit is well organised and easy to use. It is also best to have a handle on your groom kit for easy transport.
Horse Brush
Your home groom kit will need a number of brushes. The three main types of horse brush you will need are:
Super soft

Medium bristled

Hard bristled Dandy
Curry Comb
A round rubber curry comb is usually the best type to put in your tack box. The metal and plastic ones tend not to do the job as well, but it may be worth keeping a metal one in your groom kit to scrape the hair off your brushes.
Combs
Your home grooming kit requires a number of different combs which serve certain purposes:
Thick wide toothed comb (for use on tail hair and long mane)

Comb with closer teeth (plastic)

Pulling comb (small and metal to pull mane; comb short mane; braid mane)
Hoof Care Tools
Keeping your horse's feet clean and healthy is vital. For this your home grooming kit should contain the following:
Metal hoof pick (cleans dirt/stones)

Hoof pick with stiff brush (removes mud)
Bathing Items
Maintaining cleanliness of your horse is so important, particularly if you are taking part in shows, or it is very hot. In your tack box you should have:
Clean sponge

Horse shampoo

Sweat scraper (plastic with rubber)

Liniment (Vetrolin)

Wash Bucket
Washing your horse with horse shampoo or Vetrolin will comfort the horse's muscles, and cool him down after a long hot ride.
First Aid Kit
Your groom kits needs a first aid kit so that your horse can be looked after in an emergency. For maximum safety you will require:
First aid cream/spray

Wound cleaner

Clean bandages

Gauze pads

Masking tape

Clean towels
Grooming Kit Extras
Aside from the usual horse grooming kit items, there may be some extras that could benefit you and your horse that you were not aware of. To find out more about extra horse equipment see the following guide.
Horse grooming mitten or stable rubber
These horse accessories are ideal for the final wipe over your horse's coat.
Face brush
This small brush for the horse face has soft bristles and is normally made from goat hair.
Trimming scissors
These are safer than regular scissors because of their blades with round ends.
Human hair brush
These are great for brushing the mane and tail of your horse because of the wide bristles.
Cactus cloth
This horse grooming item comes in the form of a coarse fabric square or mitten and is used to get rid of stains (pictured above).
Pulling comb
This horse equipment is used to thin and shape the tail and mane. It's normally made from metal or nylon.
Articles