Breaking in an English Horse Saddle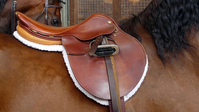 How to Break in a Horse Saddle
Much like new leather shoes for humans, a new leather horse saddle will probably not be very comfortable, for you or the horse. Often the leather is very stiff and the stirrups can be very stubborn. It will stay like this until the saddle is broken in. Breaking in a horse saddle is not particularly hard and can be done quite quickly if your ride it daily and condition the leather. This guide tells you how to break in a saddle.


How to Break in a Saddle

• Breaking in a horse saddle will vastly increase the comfort levels for both you and the horse. The best way to do this is to ride with the saddle as much as possible. This way it will adjust to both you and your horse's shape. Expect it to be uncomfortable the first few times.

• Alongside riding, providing the correct conditioning to the leather will help to break in a saddle quicker. Saddle soap, alongside leather conditioner is very effective when breaking in a horse saddle. You will need to get into all the crevices on the horse saddle. Applying two coats per session is recommended, any more than that is a waste. For the best results, make sure the soap is fully rubbed into the leather.

• When applying the leather conditioner, apply plenty to the twist, the seat, the knee rolls and the flaps. This doesn't need to be done as often as with the saddle soap, two or three times a week is ample.

• Saddle stick is your friend while you are breaking in a saddle. New leather is quite slippery and this will make it difficult to use the horse saddle for a while. To break in a saddle, it needs to be used a lot and the saddle stick will help to keep your legs on the flaps, thus making the breaking in process easier.


Tips & Advice

• Using the same horse saddle on different horses will help to break it in further. Saddles will conform to the shape of the horse and rider over time, if you use it on different horses, it will speed up the process.

• Whilst you are trying to break in a saddle, keep it clean and dry when not in use. Not only will it be easier to apply the soap and conditioner, it is also good tack care practice.

Articles