A Guide to Spring and Summer Horse Rugs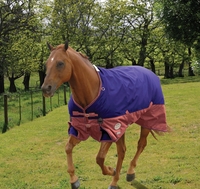 With spring arriving and summer approaching it is time to start thinking about your horse or pony's summer rug requirements. With many different types of rugs now available on the market, deciding on the most suitable rug can be quite daunting.

Firstly there are some factors which you should take into consideration:
• Has your horse or pony been stabled or field kept throughout winter?
• Has your horse or pony been clipped?
• The type/breed of your horse or pony

If your horse or pony has been fully clipped and stabled throughout winter then he/she will need a heavier weight rug i.e. a rug with more fill then one which has not been clipped and has been field kept.

Turnout rugs are split into several different categories to help identify the rug you require. Throughout the coldest parts of winter your horse or pony has most probably been in a heavy weight rug which would have between 300g to 400g fill. This would then have been replaced with a medium weight rug with around 180g to 220g.

During spring the weather will start to get warmer, although there can still be a risk of heavy showers and the temperature dropping when the sun is not out. If your horse has been stabled a lot during winter and has been clipped then a medium lite turnout rug would be good transitional rug to use. It has around 100g of fill and will therefore provide your horse or pony with some warmth whilst still having the flexibility of being light enough if the weather was to change.

When the temperature starts to get warmer a light weight turnout rug can be used instead. This rug has no fill and will provide your horse or pony with protection from the wind and rain.

With both of these rugs you can choose between a combo and a standard neck design. The combo design will provide your horse or pony with additional protection on their neck. This design is useful if your horse or pony is living out or has been fully clipped throughout winter.
When summer arrives it brings along another problem, flies! Some horses and ponies are not worried about being hassled by flies whilst others can find this upsetting. If he/she does fall into this category then a good quality fly rug will help provide protection from the flies. It is important when choosing a fly rug, you look for one which will provide good protection from your horse or pony's tail to head therefore a combo design is ideal. A large tail flap and large belly cover which goes underneath your horse or pony are extra design features to help increase protection.
It is important to remember that the temperature can drop at night during spring and summer and if your horse or pony is out overnight then they may require a rug putting on, a thicker rug or an extra layer. As a general guide, it is best to go up to the next weight rug if the temperature is going to drop during the night.
*Material supplied courtesy of the Horsemart National magazine, May 2010 – available at all good stockists nationwide. Email [email protected] today for more info!

Click the button below to subscribe to the Horsemart National Magazine

Articles