A guide to show bridles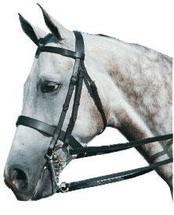 by W Honeywood
There are some very nice show bridles on the market today. Just by searching on the Internet you can find a selection of reasonably priced ones to the rather more expensive bridles that are on offer on the many tack and horse related websites.
When it comes to choosing one, you have to be sure that the quality you are going to invest in, is indeed good value for money. You will find handcrafted bridles for showing Arabs to the more traditional ones which are all made of the highest quality leather.
Many websites advertise 'made to measure' show bridles, this means the bridle will be perfect fit for your horse or pony. Not only will they fit well, but they will also be far superior to one that you purchase off the shelf. Show bridles need to be stylish but they also need to suit the horse or pony that it is for. If you are showing a cob you would not want anything that is too fancy, but you would what a bridle that is well made and sturdy for the in-hand or ridden work when you are competing at a show.
The quality of the leather has to be the best that you can afford. English leather show bridles come in various colours with smart brow bands and if well oiled, they will last you a lifetime. It is always wiser to spend that little bit more on a show bridle as it will not only get you and your horse noticed, you can be sure that every part of it, including the keepers will be well crafted onto the bridle so the chances of anything breaking is greatly reduced.
There are some very inexpensive show bridles on the market, but quite often the first thing that breaks on them is the keepers. You will get marked down for this by a show judge, especially if your straps are not securely placed in their keepers, so keep this is something to keep in mind when you are looking at cheaper bridles.
Hand stitched show bridles do cost a lot more money, but you do get what you are paying for, which is a bridle that will last you a very long time, as long as you take good care of it. This means wiping it over every time you use it ensuring that you take it apart when you do so, like this you will get to even to the most difficult parts around the bit straps, brow and noseband as well as the throat lash. You should always pay particular attention to the buckles and keepers so that your show bridle remains soft and pliable.
Articles