13 steps to making a saddle pad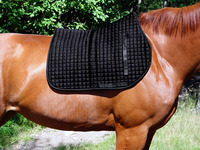 Saddle Pads
Horse saddles do rub if used a lot without the cushioning of a saddle pad. It is particularly important to use a saddle pad if you ride consistently, train or breed horses. If you want to make a saddle pad it is very easy and this article should explain to you the best way to do so.
Simple steps to making a saddle pad
Measure the saddle you will be using with the saddle pad.

The padding should be large enough that no part of the saddle overlaps the edge of it.

You should make the saddle pad cover out of a durable yet thick fabric such as corduroy.

Trim the corduroy to the right size; you will need two identical pieces.

Sew the two pieces of fabric together leaving one end open so you achieve a pillow case effect.

Use 5 cotton and 5 fleece layers alternately to form the padding that will go inside the corduroy case. You will need to trim these layers to size.

Stack the layers making sure all the edges are even and then feed them into the corduroy cover.

Make sure the saddle pad is even with no bumps of fabric anywhere.

Sew the open end of the saddle pad shut.

The next step in how to make a saddle pad is sewing straight down the middle. This will ensure that the layers of fleece and cotton inside the saddle pad do not move around and crinkle up.

if you fancy decorating your saddle pad then you can embroider it as much as you want on the upper side of the pad.

When using the saddle pad make sure that your horse is groomed before you fit any horse saddles.

Put the saddle pad onto your horse and sit the saddle on top of the pad.
To take a look at saddle pads and other riding equipment, click here.
Articles