Horse Accessories - Types of Horse Rugs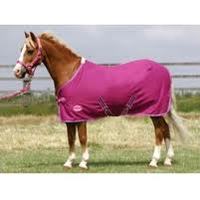 Horse Rugs
There are lots of different types of horse rugs available so it can be confusing which ones you need to buy and which are optional. This article will provide you with a simple list on the different types of horse rugs you can buy so you can decide which horse rugs are right for you.
Fly Sheets
Fly sheets can be used to stop your horse being bothered and bitten by flies and midges. They are made out of tough material but if your horse suffers from sweet itch you will need to buy a specially designed rug which prevents the Culicoides midge from biting the horse.
Lightweight Horse Rugs
You will need to buy two lightweight horse rugs so you can use one while the other is in the wash. The lightweight horse rug you buy should be a breathable and washable turnout rug so you can use it inside and outside of the stable.
Thermal Rugs for Sale
Thermal horse rugs are for people who want to treat their horse. The fabric has wicking properties which will keep your horse warm and help him dry out.
Articles