!—RADIUMONE POST BEACON TAG—>
Showing horse - 7 yrs 8 mths 11.2 hh Chestnut - North Yorkshire
FANTASTIC LITTLE MOVER floaty straight natural paces and loves to work and the attention, very well bred for showing. good temp, good for farrier. no vices, will live in or out.
Category:
Showing Horses
Price:
£ 1,100 ONO
Horse's name:
BEAUTY
Passport No:
826037011082778
Age:
7 yrs 8 mths
Colour:
Chestnut
Gender:
Mare
Height:
11.2 hands
Breed:
Riding Pony
Registration details
we're sorry, this ad is no longer available.
Latest ads in the same category: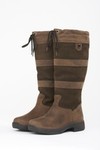 Stylish Dublin River Boots available in Dark Brown, Chocolate & Black! Now waterproof with HBR membrane and RCS footbed!
visit now >

Do you want experience, quality and care? Visit PRESTIGE HORSEBOXES for the ultimate in design and luxury.......why settle for less?
visit now >