!—RADIUMONE POST BEACON TAG—>
Qualified Equine Dental Technician - Gloucestershire
Maintaining a healthy mouth is essential for your horse to eat and perform to its optimum. Through regular dental visits from a qualified Equine Dental Technician, which should begin at a young age, the effect of any dental pathology or oral discomfort can be minimised and controlled, leading to a happier horse. Advice is always given freely on any issue either during the visit or on the telephone. I am a fully insured, BEVA/BVDA qualified Equine Dental Technician, who has also completed a three year degree; BSc (Hons) Equine Dental Science. I now also teach Equine Dentistry at Hartpury College. I offer a quiet, sympathetic service at a competitive rate. Routine visits are charged at £45 all inclusive. If your horse requires more advanced dental treatment, which will incur a greater fee, this will be discussed with you before treatment is administered. You will be provided with a dental chart which shows the pathology found, any treatment that has been administered, as well as an indication if any further treatment is required and when. I am based in Gloucestershire and cover all the surrounding counties within the South-West, including Somerset, Devon, Cornwall, Herefordshire and Worcestershire. Please contact me via e-mail or telephone to book in your horse or to see when I am next in your area. Discount is available for bookings of 8 or more horses, please contact me to discuss. Claire Johnson Hartpury College Hartpury Gloucestershire GL19 3BE 07760154100
[email protected]
www.equinedentist.org.uk
Category:
Equine Dentistry
Registration details
we're sorry, this ad is no longer available.


Do you provide horse insurance? Put yourself in front of 180,000 potential customers a week!
visit now >

Sussex based Equine Charity 'How 2 Train ur Human' are putting together the 'Fit Farrier 2015' Calendar to raise funds towards an animal ambulance for the Sussex.
visit now >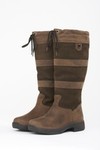 Stylish Dublin River Boots available in Dark Brown, Chocolate & Black! Now waterproof with HBR membrane and RCS footbed!
visit now >