!—RADIUMONE POST BEACON TAG—>
Qualified Equine Dental Technician - Gloucestershire
Maintaining a healthy mouth is essential for your horse to eat and perform to its optimum. Through regular dental visits from a qualified Equine Dental Technician, which should begin at a young age, the effect of any dental pathology or oral discomfort can be minimised and controlled, leading to a happier horse. Advice is always given freely on any issue either during the visit or on the telephone. I am a fully insured, BEVA/BVDA qualified Equine Dental Technician, who has also completed a three year degree; BSc (Hons) Equine Dental Science. I now also teach Equine Dentistry at Hartpury College. I offer a quiet, sympathetic service at a competitive rate. Routine visits are charged at £45 all inclusive. If your horse requires more advanced dental treatment, which will incur a greater fee, this will be discussed with you before treatment is administered. You will be provided with a dental chart which shows the pathology found, any treatment that has been administered, as well as an indication if any further treatment is required and when. I am based in Gloucestershire and cover all the surrounding counties within the South-West, including Somerset, Devon, Cornwall, Herefordshire and Worcestershire. Please contact me via e-mail or telephone to book in your horse or to see when I am next in your area. Discount is available for bookings of 8 or more horses, please contact me to discuss. Claire Johnson Hartpury College Hartpury Gloucestershire GL19 3BE 07760154100
[email protected]
www.equinedentist.org.uk
Category:
Equine Dentistry
Registration details
we're sorry, this ad is no longer available.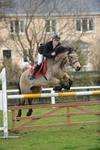 Welcome to Diamond's Equine Centre and Connemara Performance Ponies, located in the heart of the home of the Connemara Pony.
visit now >

The Caldene Lana Sleeveless Top is a a sleeveless ladies polo shirt constructed in a stretch pique fabric, with a ribbed collar and sleeve cuffs. Just £30.99!
visit now >

Top quality horses personally hand picked from the continent for Ability, Temperament and Conformation
visit now >
Edit in sitelab