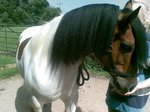 offline now


about me:
my name:
Hobbs
age:
16
i'm from:
East Midlands
country:

England
gender:
Male
breed:
when I arrived:
Hobbs was brought by my parents as my first horse. He had just turned 6 years old, he had done a variety of things from XC, hunting, and dressage.
bio:
Hobbs is 14.3hh, and he is a tri-coloured gypsy cob x TB. He's absoloutly gorgeous. He has a mass of mane and tail, his forelock passing his muzzle! He's a cheeky monkey, and can really take the *BEEP* sometimes, but he's my baby, and i love him!
special features:
He has half a wall eye, the shape of england in one of his eyes, which is stunning. His marking towards the back is a love heart which reaches all the way under his stomach, and the same on the other side! He gives his hoof for treats!
likes:
EATING is his top favourite thing ever, from grass to treats, and he loves having din dins in the wintertimes. Hacking out with friends, going fast, being naughty! Showing off in the show ring, and bucking!!
dislikes:
Scary things - EVERYTHING! Hacking out alone, being left alone :( being tacked up - he mysteriously falls asleep when the bridle comes out..hmm. Scary fillers, loud noises, things that are loud and spookey!! Having his ears touched.
my album:
tags: