Zara Phillips carries Olympic torch on a nervous Toytown in Cheltenham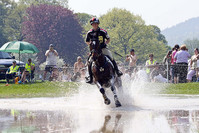 Zara Phillips (pictured left riding Tsunami II) carried the Olympic torch riding her beloved horse Toytown through Cheltenham on Wednesday 23 May 2012, under the watchful eye of her mother Princess Anne.
Over 15,000 people made their way to Cheltenham Racecourse to watch Zara Phillips carry the Olympic flame down the final straight. Phillips was reunited with Toytown, the horse she retired in 2011.
Toytown looked nervous as the torch, held by Zara Phillips, was lit. After a hesitant start, however, Toytown and Phillips successfully carried the Olympic torch on their short leg of Day Five of the Olympic torch relay.
Take a look at the video from The Telegraph below to see Toytown and Zara in action.
For the full story, visit the Metro website. For another video and commentary, visit the BBC website.
Photo of Zara Phillips riding Tsunami II by Smudge 9000
News