Woman stays with trapped horse for three hours awaiting rescue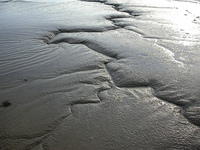 A brave young woman stayed with her trapped horse for three hours as the sea water closed in on the animal, keeping its head held high in a race against the tide.
According to the Daily Mail, Miss Graham had been out for an afternoon ride with her daughter along the Australian south coast. Whilst out riding, her horse, called Astro had sunk into a quagmire-like mud and before she could warn her daughter the same thing happened to her.
Miss Graham managed to drag herself out of the mud to free her daughter and the other horse on to firmer ground and she then went back to tend to Astro.
Exhausted and covered in mud, she clung to 78-stone Astro for three hours keeping his head high as the water rose around them.
Astro was stuck hard into the mud and any attempts Miss Graham made to free him only resulted in herself sinking deeper into the quagmire.
Miss Graham's daughter Paris ran to their car and phoned for help as her mother stayed at the horse's side.
After three hours of clinging to her horse, rescuers were able to pull Astro free from the mud.
Miss Graham, who owns more than 10 horses and runs an equine dentistry business, told the Geelong Advertiser how a peaceful afternoon's ride had turned to terror.
She said: 'It was terrifying. It was also heartbreaking to see my horse exhausted and struggling.
'We went straight down and under. There was mud everywhere and every time I moved it sucked me back down. It wouldn't let us go.'
To see the rescue take a look at the video below.
Picture: Nick Saltmarsh
News