Two starving horses found in horrific condition at farm in Northern Ireland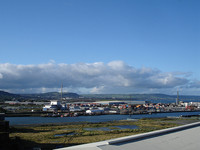 Two thoroughbred horses were found almost starved to death on a farm near Belfast.
The discovery shocked Crosskennan Lane Animal Sanctuary (CLAS) who saved the horses along with two goats and a number of calves, however, the remains of several other animals were found on the farm.
According to
The Belfast Telegraph
, the two horses were so thin that they both registered zero on the equine body condition score scale after they were rescued. They have both been taken, by the charity, to stables at an undisclosed location where they are being nursed back to health.
CLAS also said that both the horses were suffering from worms, rain scald and mud fever, when they were found.
One of the horses, a chestnut mare, has been described as so physically weak that she struggles to walk.
The horses have been put on a refeeding scheme to bring them back to health, and blood and faecal samples have been taken by a vet.
Lyn Friel, the charity's founder and manager, told the newspaper: "The prognosis is uncertain at the moment as the damage to organs and muscles can take weeks, months or longer to become apparent.
"However, at present they are receiving constant intensive nursing and ongoing assessment. We see this type of situation on a worryingly regular basis.
"The welfare calls to the charity have increased by a staggering 300% over the last couple of years.
"We are the only horse welfare and educational charity based in Northern Ireland but receive no Government assistance or funding," she added. "We are being contacted on average six times daily by the public, councils and PSNI asking us to take in abandoned, neglected and unwanted horses of all ages, breeds and abilities.
"There is nowhere for these horses to go but we believe that every horse deserves a chance."
Animal rescue is costly and the charity currently has outgoings of around £12,000 per month.
Picture:
Lyn Gateley
News