Trilanco crowned Trade Supplier of the Year at BETA Awards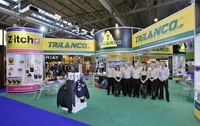 Posted by Rhea Freeman
Poulton-le-Fylde based wholesaler Trilanco has been crowned ETN Trade Supplier of the Year, at the 2012 BETA Business Awards. Whilst best known as the UK's leading animal health wholesaler, Trilanco also distributes a number of own brand products such as Z-itch, the pour-on treatment to aid the control of sweet itch in horses and ponies; Easidri grooming towel and Easidri High Performance Cooling Coat, in addition to ProTack, ProStable, Bitz, MacTack and other popular ranges.
"We are so proud to win this award," says Martin Balmer, Managing Director of Trilanco. "We were really pleased to be nominated and although we always hoped that we'd win, we were overwhelmed when our name was read out. Everyone in the company is absolutely delighted."
The company has a number of initiatives to help its retail customers, including bimonthly eshots containing the latest offers, a fleet of its own delivery vehicles, same day dispatch, a new eshop, a full colour catalogue that is available both as a trade manual and as a counter copy to assist with ordering. Additionally, the whole team receive ongoing product training to ensure that they can help anyone who calls.
"We continually invest in our internal infrastructure too," says Martin, "we've introduced barcode scanning to help ensure order accuracy levels are high, developed our own in house software to allow customers to search by key words, manufacturer or product code, and we've recently installed a new fibre optic cable to ensure our eshop is fully supported. We are regularly told that we're the friendliest team around, and that's something we are really proud of, and something we think our customers really appreciate."
The judges and nominators said: "They are an easy company to deal with - they have good stock levels, excellent customer service, and friendly staff with a can do attitude." Trilanco supplies over 9000 products across the UK and beyond to a range of retailers from tack shops to country stores and everything else in between. To find out more about this company, see
www.trilanco.com
or call 01253 888188.
News