Treeless Saddles - Dream Team Products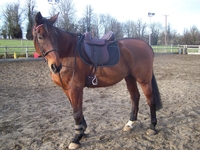 Learn about treeless saddles in this informative article.

Would you run a marathon in wooden shoes?

Dream Team Products' Birgit Michaux explains why flexible treeless saddles are the trainers of the equine industry

Which would you rather go jogging in a pair of trainers or wooden clogs? This analogy is ideal for conveying the advantages of switching to a treeless saddle, as well as the difference in 'feel' for both you and your horse. If you try to bend a tree'd saddle you'll find it feels more like a wooden shoe, whereas a treeless saddle flexes in all directions and hence feels more like a supple trainer.

Increasing choice


A number of companies now offer treeless saddles, making it difficult for first-time buyers to weigh-up their options. Decide weather you want to turn to an established company with experience in treeless saddles able to help you making the right decisions or settle for an on-your-own e-bay purchase without any support.

The first question to ask yourself is how long you want your saddle to last and what level of performance you expect. It is good to be able to get customer service, support and advice before and after purchase.

Not all Treeless Saddles feel the same. Maybe find a friend who's gone treeless and ask for a 'test ride', it won't harm the saddle as it is flexible and will mould to your horses shape. 'Doesn't fit' hardly exists with treeless saddles but it is important to get the right pad and girth suitable for your horse.
Look carefully at your horse before calling a treeless saddle company to ensure you can describe its shape correctly or, better yet, email some photos so they get a good understanding of what your horse looks like.

New feeling
Treeless saddles don't just look different; they feel different as well, for you and your horse. The feeling when riding is similar to bareback riding, but with the added safety and comfort of a seat and stirrups.
This new feeling can, of course, take a little getting used to – just imagine if you really were switching from wooden clogs to trainers for the first time! In particular, you will be sitting on the shape of the horse rather than the shape of a saddle and may have to sit wider as a result. Different styles are available to suit the various disciplines and horse shapes, from happy hacker, jumper and dressage rider to, of course, endurance rider, whose measurable success with the treeless saddles has helped convince riders from other disciplines to go treeless.

Important Treeless Saddle Accessories - Pads


The Classic Treeless saddle without a gullet requires specially designed numnahs called 'pads'. These are designed to raise the saddle on either side of the withers and spine, providing a pressure-free zone above the spine. These Pads cost a bit more than a conventional Numnah but offer great flexibility as the Pads allow your saddle to fit a large number of different shaped horses and ponies. High withered horses and flat backed horses can share the same saddle but have their individually designed pad to suit their shape.


Ensure the pad you buy offers sufficient 'breathability'. To test this, put it to your lips and blow through it – if air passes through unrestricted, the pad will keep your horse's back ventilated. Also make sure that the padding on either side of the spine is high enough to keep pressure off the withers and spine (but don't confuse this with a 'look through gullet').

Girth


The Classic Treeless Saddle has no saddle flaps and requires a short dressage-style girth. If you are worried about slipping, pay a lot of attention to choosing the right girth shape for your horses as the correct type and shape can prevent slipping problems with saddles.

Horses change – tree'd saddles don't

Most people keep horses to ride and train, but what happens when we do this? They change shape. A range of things will influence the horse's shape, such as resting, training, starting, injuries, foaling, illness, age and seasons to name but a few.
The saddle most people use, however, does not change – unless we buy a new one all the time, or ask a master saddler to make adjustments. More often than not though, we ignore the fact that the saddle doesn't fit and persevere with a horse that is stiff and slow to respond to our aids. Even worse, we might encounter disobedience as a result of discomfort.

'Fitting'


The term 'fitting' in the tree'd saddle sense doesn't really apply to treeless saddles as they mould to the shape of the horse, although some of the principles do apply. Some treeless models look rather large when on a horse or pony; it is important, therefore, to understand that the weight-bearing area is generally under where the rider sits, whereas with a tree'd saddle the weight is borne were the saddle touches the horse. The fitting, or in this case the selection, of the right saddle model and suitable accessories should be supported by an experienced treeless saddle company.

Size of the rider


The size of the saddle is determined by dress size and or the weight of the rider. Sizes range according to the manufacturer from 15" to 18". Even though these measurements sound the same as tree'd saddles, the measuring points are different and can vary with manufacturers.
Make sure your saddle is not too small. If the seat length is too short, you hit the cantle on the way down from the rising trot, making it uncomfortable for you and your horse. If the saddle is a little bit too long in the seat it won't cause any harm, but you will miss out in support provided by the saddle.


Make the switch


As well as improving comfort and performance, a further advantage of using treeless saddles is that they are cost-effective. Once purchased, a treeless saddle can be transferred from horse to horse as it moulds to the horse's back

Treeless saddles offer riders and horses so many advantages over traditional tree'd saddles. Whatever appeals to you, be it comfort for you or your horse, improved performance, lightweight or cost-effectiveness, isn't it time you kicked off those old wooden clogs and gave trainers a try?

Birgit Michaux is the managing director of Dream Team Products.
If you would like further expert advice on switching to treeless saddles, then call her independent Treeless Saddle Helpline on 08456 731737.


*Material supplied courtesy of the Horsemart National magazine, April 2010 – available at all good stockists nationwide,

Email [email protected] today for more info!

Click the button below to subscribe to Horsemart National magazine

Latest News