Top 5 Horse Memes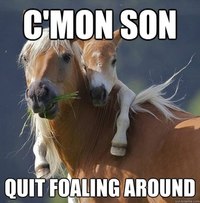 If you have Facebook account (or other social network) it is likely you will have seen your feeds full of "memes" recently.
A "meme" (pronounced "team") is basically a photo with a caption or statement added to it. These started out as ways of people making social statements and seem to have grown in popularity due to the fact they are so easy to create and share.
Admittedly there are some very weird and bizarre ones out there, but there's also a lot of funny ones too!
There are memes featuring all sorts of people and animals, including horses.
Here's our top 5 horse memes that we've found on the web this week…
1) Our favourite that started off this search for memes. You loved it too when we posted in on our Facebook page…


3) Say it loud, say it proud…

4) The horse's revenge on an old joke…

5) Sometimes we know just how he feels…
Latest News