The New Forest Show thrills with Maxi Cobs and Shetland pony Grand National (video)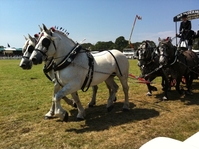 By Nicola Strong
Following the excitement of Hickstead, the New Forest Show would have a lot to live up to. Thankfully it delivered (and so did the sunshine!), providing an excellent day out for all the family. Nicola Strong reports.
The show is a complete package, with various attractions to appeal to all interests, from showjumping to showing, fairground rides, vintage machinery demonstrations, shopping and countryside pursuits - oh, and don't forget to mention the food!

With action taking place in different arenas, I planned my timetable for the day to take in as much as possible. My day began with a tour of the showground, and we came across a Maxi Cob class getting under way.
Sharon Kilminster explained that the maxi cob class was a relatively recent addition as so many of the cobs were measuring out. It was hotly contested, and fantastic to see such large, chunky animals moving so elegantly, and looking amazingly light in the hand. You could see they had mastered the art of self carriage, as essential with showing classes, and the riders contact was minimal making it all look very easy!

Onto something completely different, I then witnessed the Shetland pony Grand National! A line-up of dinky young riders and their speedy little steeds all competed, bombing round the arena in a flash of colourful silks and Thellwell-esque manes and tails flying! One little chestnut made all the running, but it was the competitor on the inside track who took the victory. The crowd cheered and applauded as they all took a lap of honour.



Next up we saw some show hunter ponies compete, parading round the arena before lining up to be ridden by the judge, and having their conformation looked over without tack.
Another Cob class followed, and my eagle eyed friend spotted the renowned showing specialist Surrey based Lynn Russell on a beautiful coloured horse.

Heavy horse displays were on show in one arena, with teams of Shire horses pulling traditional carts. They looked spectacular as ever, and I was left wondering how long it must have taken to clean all the tack, and get those gentle giants preened to within an inch of their lives!
My final stop off for the day was the showjumping – always a personal favourite. The first class I saw was the New Forest and Hampshire County Show stakes at 1m40. The course looked to be riding well, and consequently there were quite a few clear rounds heading through to the jump off.

Nobody was hanging around, ensuring it would be a true test of both speed and jumping. The eventual winner was Victoria Young on her own Nethertown Valentine, from Mark Armstrong and Caleta, and Mill Hollow Clouding in third for Rowan Willis.
The fences were then put up to 1m55 for the finale, the British Showjumping International Trial. Experience proved decisive and the well known showjumper Tim Davies' and Salome Li took the honours, and followed it up with 5th place on his other ride Valentijn O. Sian Price was second on her horse Step in Time Lii, before Sarah Arkell riding Nantuam Des Etisses.



For full results listings which are too numerous to mention, please visit http://www.newforestshow.co.uk/website/.
Horsemart reader and blogger Nicola Strong has been riding for 24 years and is an amateur rider taking her first steps into the world of British Eventing and British Showjumping, supported all the way by trainer and sponsor Sharon Kilminster. She has her own blog at www.headstrongequestrian.com.
Latest News